Aim is to improve and accelerate dental model production.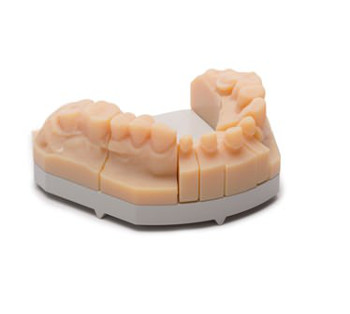 Dental model designed using exocad Model Creator software and produced on a Stratasys Objet Eden260V 3D PrinterMore developments in 3D printing were released this week. Stratasys Ltd., a manufacturer of 3D printers and materials for personal use, prototyping and production announced that exocad® GmbH, a global company providing dental CAD/CAM software solutions exclusively for the OEM market, has verified Stratasys 3D Printers for the manufacture of physical dental models in its latest software release.
"We are happy to provide our dental lab customers with the opportunity to use our exocad dental CAD software integrated with Stratasys 3D Printers. This is aimed at enabling them to improve performance and maximize the value of their technological investments," said Tillmann Steinbrecher, General Manager and CEO of exocad GmbH. "exocad means freedom of choice, providing options for integration and customization."
The exocad software, known for its speedy operation and ease of use, is fast becoming one of the most popular open CAD software solutions for dental lab technicians. Now with the exocad validation, customers who run the latest exocad Model Creator software release will have access to Stratasys manufacturing pre-settings to 3D print models. This validation is designed to enable a seamless digital dental workflow in which dental labs can quickly take intra-oral scans and digitally design and create accurate, smooth dental models on Stratasys 3D Printers.
"As a leading OEM‐branded dental CAD/CAM software, exocad is known for its fast and intuitive operation, allowing dental labs to maximize productivity and minimize training costs," said Avi Cohen, Director of Global Dental, Stratasys. "Fueled by the dental lab industry's ongoing quest for highly flexible, cost‐effective, and 'future‐proof' CAD/CAM solutions and our ongoing commitment to enable a continuous workflow in the clinical setting, we have worked together to create what we believe is the best fitting solution. Together with exocad GmbH, we have designed modules to combine previously disparate workflows to a single, seamless, and easy‐to‐use solution."
For more information visit www.StratasysDental.com

Read the exocad White Paper

Follow us on Twitter - @DigiPrintNews
Like us on Facebook www.facebook.com/DPNLive - (click the 'LIKED' button/top of page as well)
Copyright © 2014, DPNLIVE – All Rights Reserved.