Latest version of Digital StoreFront is launched.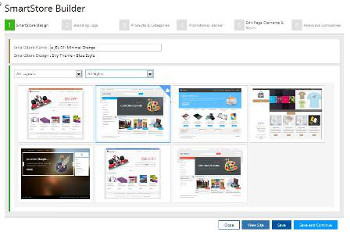 Storefront Google ChromeEFI™ has launched the latest version of its Digital StoreFront® software. Available this quarter, version 7 of EFI Digital StoreFront combines the software's SmartStore Builder interface with advanced HTML5 tools for optimised web-to-print storefront access across desktop, tablet and mobile devices.
"Printing companies need a powerful online interface not only to win new business, but to create greater customer loyalty through branding and updated browser functionality," said Dave Minnick, director of EFI's Web2Print product solutions group. "Our new version of EFI Digital StoreFront addresses this critical need by providing the most compelling, attractive and feature-rich web-to-print and eCommerce solution in the industry."
With Digital StoreFront 7, print shop administrators can choose from a variety of pre-built layouts and themes as well as easily customise storefronts using the software's SmartStore Builder. Administrators can also perform advanced customisation tasks with direct HTML and CSS editing. The software also features a re-designed interface for improved ease of use.
"Digital StoreFront has a new look and feel that is second to none. The simplicity of using one of the provided templates to create a rich buyer experience and also having the advanced editing abilities to create whatever look I want is brilliant," according to Digital StoreFront user Scott Perry of Pegasus Interprint, Van Nuys, California, USA. "The re-design EFI has created will make it a more useful, intuitive tool to continue growing our web-to-print and eCommerce efforts in both B2C and B2B markets."
Using HTML5 and responsive design, Digital StoreFront 7 ensures seamless support across operating systems, browsers, and devices. Each storefront design has been certified for desktop, tablet and mobile devices running Windows, Linux, Max OS, iOS, Android and Windows Mobile. As a result, printing companies can offer their customers the same world-class eCommerce experience at the office, at home or on the road.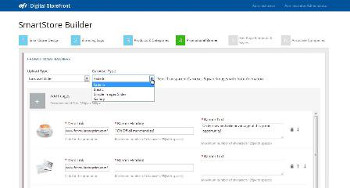 EFI Digital Storefront Digital StoreFront's VWeb+ cross-media marketing module combines the power and precision of variable-data printing, personal web pages, emails and SMS text messages. Users can create and manage comprehensive, multi-touch marketing campaigns, track customer response and configure automated follow-up messages.
Version 7 of Digital StoreFront also offers several advances in automation and integration. Pre-flighted files, job attributes and order information flow directly to downstream systems, eliminating redundant touches and delays in the production process. Digital StoreFront also works seamlessly with EFI's industry-leading print workflow products, including EFI Pace™ and Monarch™ MIS/ERP and EFI Fiery® digital front end software.
Digital StoreFront is the industry leading web-to-print eCommerce platform, localised in 16 languages and supporting several thousand print shops worldwide. Available both in a convenient software-as-a-service model, as well as a self-hosted model, Digital StoreFront's flexibility and extensibility support a wide range of operations, including general commercial and retail print businesses, as well as government, education and healthcare in-plant facilities.
Digital StoreFront 7 will make its worldwide debut at the EFI Connect Users Conference, 21-24 January in Las Vegas. For more information about EFI web-to-print, eCommerce and print workflow products, visit www.efi.com

Press release by EFI
Follow us on Twitter - @DigiPrintNews
Like us on Facebook www.facebook.com/DPNLive - (click the 'LIKED' button/top of page as well)