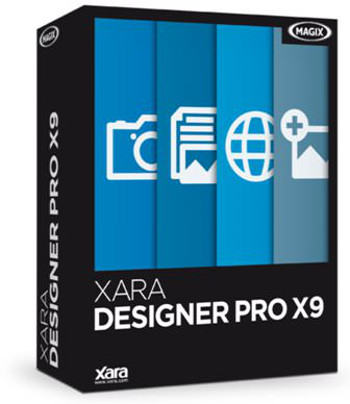 xara designer pro x9In order to get to grips with this review, let me tell what I am and what I am not. I am not a designer or graphics person and have no training whatsoever in those areas. I am a management consultant and also run the back end of a number of websites, www.dpnlive.com, www.synergy.ie and www.golfmaster.ie being three of them. I am not trained in web design, html or any other similar software. I am trained in normal office software and consider myself reasonably well tuned in to computers and am tolerably up to date in terms of technology.
I have tried to use Adobe Creative Suite including Photoshop, find it very unfriendly and I can't get my head around it, despite having been on a training course. I also have Corel Graphics Suite X6 and find it easier to understand that.
I have recently tried Xara Designer ProX9. It downloaded and installed fairly easy. It comes in 32 bit and 64 bit versions. You can download and use both. You need a 64-bit copy of Windows 7 or Windows 8 to take advantage of the 64-bit environment. I upgraded my copy of XP to Windows 7 64 bit. The primary benefit of 64-bit is access to more system memory. Unfortunately, I still only have 3 MB of memory. If I had more memory, 64 bit means you will be able to work with more photos in your documents and web pages without experiencing the menacing Out of Memory Warning.
I dived straight in without reading documentation, which is a mistake. After I fumbled my way around it, I decided to check out some tutorials to help me make my way around it.
On reading into it, I discovered that most 32-bit Adobe Photoshop compatible filters do not work with the 64-bit version. However, they work quite well with the 32-bit version. This is why you should install both versions. Buy one and you get the other free.
Xara Designer ProX9 is the flagship program and includes all the features of three of its programmes, i.e. Page & Layout Designer, Photo & Graphic Designer and Web Designer Premium. It has photo editing, graphics, Desk Top Publishing, illustration, and web design capabilities.
The drawing tools include an easy way to add squares and circles as well as freehand drawing, edit shapes with ease, click and drag them to create a shaded 3D version, or blend from one shape to another. You can also apply special effects to your shapes, e.g. add shadows, bevels and contours; create graduated transparency and feathering effects. And that is just to start with.
You can convert bitmaps to vectors.
By combining all the photo, graphics, page layout and web design tools in one program, Xara Designer ProX9 uses less memory, has faster performance, no program switching and less hardware requirements. This also has the advantage of an easier learning curve (but you have to have some knowledge or be prepared to learn), high productivity and excellent value for money.
It has good photo editing functions which make it fun to operate and even sort of idiot proof. It's not as powerful as Corel, but very good none the less.
I used it for DTP and page design also. It has some templates built in, which are great to get you started and guide you through your project.
On reading documentation, I discovered that some web enhancements include good management of page backgrounds and tiling fills, simple drag-and-drop replacement of navigation bars that preserve existing links, support for Google Analytics so that you can monitor website traffic, a wider range of interactive page elements and intelligent swapping in of high resolution images for display on high-DPI iOS and Android devices. You can publish directly to a server and your purchase includes a years free web hosting. Upon talking to my web guy that did not impress him because he likes to stay in control of coding.
I found the programme to be surprisingly fast and it has good undo features. When using the programme, I discovered that you need to have some knowledge of graphics and photo editing.
While it has good videos and tutorials, there's no hand-holding. It takes a lot of effort and thought to produce professional-looking designs. That said, Xara offers just about every tool imaginable for your projects. It's a great choice for those who need a comprehensive design package. Those who need things spelled out for them should find a more basic program more suited to beginners.
You can read the DPNlive article announcing the release of Xara Designer ProX9 here.
Review by Bob Tallent
Follow us on Twitter - @DigiPrintNews
Like us on Facebook www.facebook.com/DPNLive - (click the 'LIKED' button/top of page as well)
Copyright © 2014, DPNLIVE – All Rights Reserved.