New Fiery FS150 Pro launched for

cut-sheet digital production systems.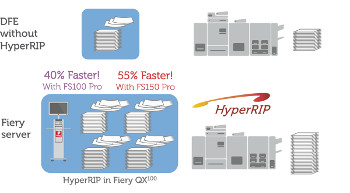 The HyperRIP feature in the new EFI Fiery FS150 Pro DFE can process files up to 55% faster than other DFEsEFI has released details about the launch of its newest Fiery platform for cut-sheet digital production systems, the EFI Fiery FS150 Pro. This latest digital front end (DFE) is being billed as offering faster processing, unmatched image quality, seamless MIS/ERP integration and even easier to use automated workflows.
---
The main Features are:
Higher Performance:
This is achieved by a Fiery HyperRIP which simultaneously processes a print job on four processor cores. As a result, EFI maintains that users can get their full-colour digital print jobs processed up to 55 per cent faster than Fiery Driven™ presses without HyperRIP.
"With the new FS150 Pro technology, we dramatically improve the already industry-leading processing time of Fiery DFEs," said John Henze, vice president, Fiery marketing, EFI. "That best-in-class Fiery performance, combined with easy-to-use automated workflows, gives in-plant print departments and commercial printers the power to complete work faster with outstanding accuracy, even on complex jobs."

Unsurpassed Image Quality:
The Fiery FS150 Pro DFE has all the advanced imaging features that made its predecessor the first DFE platform to carry a 100 per cent perfect pass label from VIGC's PDF RIP Audit. To give users more confidence than ever before that their output matches the designer's intent on the first print, it includes a new greyscale composite overprint feature designed to ensure correct monochrome printing of overprints, drop shadows and transparencies.
The Fiery ImageViewer, an application that allows users to view full resolution raster data in real time and adjust the final raster output before printing, now includes the ability to save last-minute colour adjustments, so future jobs that require the same type of colour correction can be produced faster.
"EFI raised the bar again with its Fiery FS150 Pro," according to Kaspar Roos, associate director of production workflow solutions at analyst firm InfoTrends. "With its speed enhancements, better colour management and productivity improvements; it is a perfect fit for demanding print environments."
More Job Automation:
The latest version of Fiery Command WorkStation software included with the Fiery FS150 Pro DFE has been updated to put automated production controls at users' fingertips. Server-based automated workflows are easy for system administrators to set up and deploy, allowing operators to produce jobs in fewer clicks and with reduced errors.
The Fiery FS150 Pro DFE integrates seamlessly with EFI's MIS/ERP software, eCommerce/Web-to-Print products and scheduling tools. As a result, added EFI, customers can easily optimise their print load and track both expenses and profits in a complete, connected business operations workflow.
Additional features and benefits include:
Support for APPE 3.0, Adobe's latest PDF-native rendering platform.
Fiery JobMaster, an advanced make-ready solution, brings additional tab design features to tackle complex tab layouts and produce unique jobs, giving users the ability to print multi-bank and bleed-edge tabs with ease.
The free Fiery Go app for iPhones and iPads allows busy users to monitor and manage print jobs from anywhere in the print shop while doing other tasks.
An expanded colour library for brand colour matching, including the 84 new colours recently issued in the PANTONE Plus Series.
Fiery Integration Manager that significantly reduces the effort needed to establish time- and money-saving workflow integrations through Job Definition Format (JDF) configuration settings.
Fiery API support for development of custom applications and tools to meet specific user needs.
The first DFEs based on the Fiery FS150 Pro system platform will be available starting next month. For more information about Fiery DFEs, visit www.efi.com
Follow us on Twitter - @DigiPrintNews
Like us on Facebook www.facebook.com/DPNLive - (click the 'LIKED' button/top of page as well)
Copyright © 2013, DPNLIVE – All Rights Reserved.