Stronger analysis and tighter cost controls

deliver better manufacturing operation.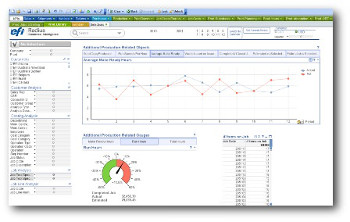 EFI RadiusEFI™ has announced that Distinct Packabilities, based in Shepherdsville, Kentucky, USA, has completed a new implementation of EFI Radius ERP software. The company is using the enterprise resource planning system's modular management, scheduling, shop-floor data collection, inventory and accounting tools to optimise production shifts, eliminate errors and maximise profits.
Distinct Packabilities selected EFI Radius after conducting a detailed review of ERP platforms. At the end, David Haley, the company's general manager, decided that Radius offered the best return on investment. EFI said that Distinct Packabilities' switch to Radius - a complete implementation that took six months compared to much longer implementations with other ERP systems - reflected its commitment to the project from the highest levels of EFI's Productivity Software business.
"Upgrading our ERP operations was quite challenging. It required making the right investment in terms of time, training and money," said Haley. "With Radius, we have the full set of analysis tools we need to ensure accurate manufacturing operations, order processing, supply chain management, estimating and scheduling - and our customers benefit by gaining even better service, real-time information and supply-side visibility."
Since going live with Radius in January, Distinct has been able to accurately benchmark throughput for its press lines, comparing projected and actual production times and then using data points collected through the ERP system to determine the cause for any variances. The company has also simplified its accounts receivables operations by consolidating two separate billing systems in Radius's accounting module.
"Good data is an absolute requirement for any business to succeed, and with the data we are now collecting through Radius, the entire toolbox of business analytics is available to us for the first time as a company," continued Haley. "Everything from the basic analysis of plant throughput to more complex analyses of costs at job and SKU levels is available to us on demand."
Haley added that "Radius has completely eliminated some of the issues we faced in specifying substrates and maintaining appropriate inventory levels across several hundred raw, work-in-progress and finished goods items."
Now that it is running the core components of its ERP software, Distinct Packabilities is implementing the newest-version of EFI's Business Intelligence module for Radius, a program which offers customisable reports designed to accurately track, analyse and predict performance metrics.
"We have enjoyed working with the Distinct Packabilities team. They are an eager group that committed to learning best practices in data-driven management," said David Taylor, general manager, EFI Radius. "With Radius, the company's managers are developing best practices in production, administrative, workflow and supply chain management tasks, which significantly strengthens Distinct Packabiliites' position as one of the most exciting young companies in the flexible packaging industry."
EFI emphasised that print and packaging businesses worldwide rely on its software technologies to proactively manage their businesses and become more streamlined, efficient, informed and profitable. It maintains that in addition to having the largest portfolio of graphic arts industry MIS/ERP offerings, EFI is the leading business software provider for the packaging industry with its Radius product.
EFI's complete workflow and printing portfolio also includes e-commerce and web-to-print solutions, digital front ends and digital inkjet printers.
For more information about Radius, visit www.efi.com

Follow us on Twitter - @DigiPrintNews
Like us on Facebook www.facebook.com/DPNLive - (click the 'LIKED' button/top of page as well)
Copyright © 2014, DPNLIVE – All Rights Reserved.