Company receives software certification for

HP Designjet Z6600 and Z6800 printers.
---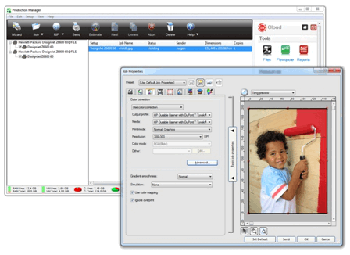 Job Properties using SAi Flexi and PhotoPRINT 11 with Cloud
SA International (SAi), a provider of solutions for the professional signmaking, large format digital printing and CAD/CAM for CNC machining industries, has announced that HP has certified its software solutions for use with the recently launched HP Designjet Z6600 and Z6800 Printers.
---
The certification, which follows a period of extensive testing by HP, is for SAi Flexi and PhotoPRINT Families Version 11 with Cloud, and Flexi subscription software. The drivers used in this software were tested by HP to ensure that they met its own stringent criteria to assure print performance, printer calibration using on-board printer devices, printer status reporting and job management.
The two printers were developed for high-value indoor applications and are targeted towards large format print providers (one of SAi's key audiences), graphic designers, professional photographers and fine artists. SAi's said its RIPs are especially suited to indoor POP/POS signage and display applications, and trade show graphics, making the choice of SAi Flexi and PhotoPRINT software for use with these printers particularly beneficial to users.
Nested Jobs using SAi Flexi and PhotoPRINT 11 with Cloud Companies using SAi RIPs with HP Designjet Z6600 and Z6800 Printers now have the assurance that their software has undergone rigorous testing to maximize the performance and productivity of their printers. SAi's long relationship with HP and the quality and compatibility of its software with specified printers is recognized by its status as an HP Platinum Level HP Partner.
SAi pointed out that another benefit to large format print providers and signmakers choosing one of its RIPs is that the cost of printer ownership can be significantly reduced through SAi's monthly subscription program. This enables users to access the latest version of SAi Flexi without a major capital investment but only a low operating cost.
"The certification of our software for the HP Designjet Z6600 and Z6800 Printers is an acknowledgement of the strengths of SAi RIP solutions and represents an official seal of approval to users of these new printers," said Sarit Tichon, Senior Vice President, Worldwide Sales and Marketing, SAi. "Our software RIPs are already certified for use with three earlier HP Designjet Z-series models as well as the recently announced HP Latex 300-series Printers, consolidating SAi's position as a leading innovator in signmaking and large format digital printing."
SAi drivers certified by HP support on-board continuous tone and halftone print modules of the printers enabling maximum control over output speed and quality. SAi's drivers also include HP media profiles for 55 media for the HP Designjet Z6800 Printer and 20 for the HP Designjet Z6600 Printer.
The certified drivers are available for users of SAi FlexiPRINT, FlexiSIGN Pro and PhotoPRINT Version 11 with Cloud, as well as to monthly subscribers to SAi Flexi.
For further information, please visit: www.ThinkSAi.com
Follow us on Twitter - @DigiPrintNews
Like us on Facebook www.facebook.com/DPNLive - (click the 'LIKED' button/top of page as well)
Copyright © 2014, DPNLIVE – All Rights Reserved.