Inkjet print software released to OEM machine builders in key digital applications.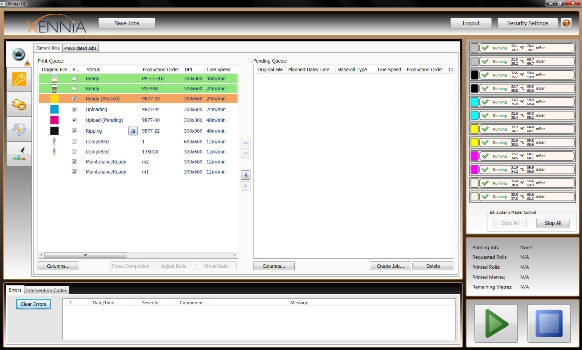 Xennia Main Queue
It's been announced that Xennia's print software, previously supplied only with Xennia digital solutions and module packages, will now be made available to OEM digital printing system builders, including full variable data printing and image path control as well as managing other inkjet printing system components.
Xennia Cygnus™ print software has been successfully deployed for many years in Xennia's own digital solutions and bundled as part of OEM hardware module packages. Xennia has now confirmed that it is making this software available as a standalone package for OEM machine builders wishing to incorporate advanced functionality into digital printing systems without the need for in-house software development.
"Xennia Cygnus™ is our advanced digital print software package, including full image path control as well as managing the other components of an inkjet printing system," commented Dr Olivier Morel, Xennia's Chief Technology Officer. "The software is available for customers in industrial, labelling & addressing, décor and ceramics applications looking for an integrated digital front end (DFE) and image path package. Xennia Cygnus™ is already installed in over 600 printers worldwide, and with this announcement we are making this functionality even more widely available to system builders. This is a significant business benefit for companies wishing to build high performance digital printing systems without the need for software development."
Xennia Cygnus™ print software has been designed to perform image colour management, RIP and splitting functions, with multiple process and spot colour capability using sophisticated imaging algorithms and including native Adobe™ PDF support. Xennia Cygnus also supports full offline or online variable data printing (VDP). The software is compatible with a wide range of printheads and printhead driver hardware, and is also capable of controlling other components of printer hardware including ink supply, curing, maintenance and motion systems. The software user interface (UI) can be customised with OEM branding and look and feel. Industrial productivity is also supported with print-while-loading / RIPping, advanced job queuing and ERP / MIS integration features.
"With four different versions aimed at different application types and levels of complexity, Xennia Cygnus™ is designed as a cost effective way to introduce advanced functionality into a digital inkjet printing system," continued Dr Morel. "Flexible licensing means the right level of functionality can be enabled for a particular system, so OEM customers can get the features they need."
http://www.xennia.com/
You can Tweet, Like us on Facebook, Share, Google+, Pinit, print and email from the top of this article.