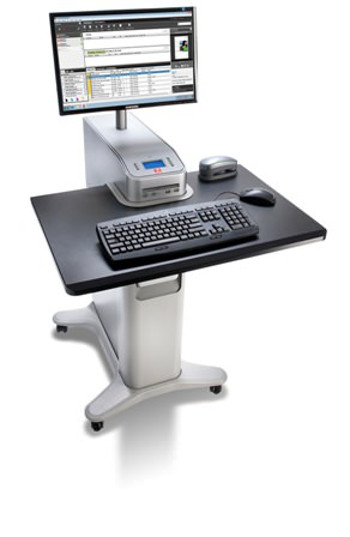 EFI FieryQX100 w StandEFI has launched the Xerox EX Print Server powered by Fiery® for Xerox Corporation's new D95/D110/D125 Copier/Printer. The server is designed to bring workflow automation and higher image quality to print-for-pay, commercial printers and in-plant CRD providers. It's based on the EFI Fiery System 10 platform, dedicated to deliver documents faster than ever before, along with integration with the printer's finishing options and greater flexibility and control.
With an ever-increasing requirement these days for diverse document management needs, the new D95/D110/D125 Copier/Printer models offer a fast, reliable way to print or copy up to 125 black-and-white pages per minute and scan up to 200 images per minute. Xerox is confident that with this new series, users can increase productivity, reduce costs and produce a range of applications, such as professional-looking newsletters, tape-bound books and catalogues.
"This combination of Fiery and Xerox technology gives print providers professional-looking finished documents that get them noticed and help them win more business," said John Henze, vice president, Fiery marketing, EFI. "Fiery technology delivers optimum image quality at top-speed, centralised job management, and integration with existing workflows and market-leading EFI MIS solutions to ensure providers get the best results in the most efficient manner."
The EX Print Server is an intuitive and powerful user interface, Fiery Command WorkStation® (CWS) v5.3, enabling centralised job management across all Fiery servers on the network regardless of whether they are colour or black-and-white. CWS 5.3 includes new features that make it even easier to use, including subset finishing in the Fiery SeeQuence Compose option which allows users to specify mixed finishing options among different subsets within a single job. In addition, the SeeQuence Impose option includes Duplo support for barcode and registration marks and User Defined Finish Sizes so the operator can automatically implement the trim and bleed sizes specified by the designer for imposed business cards, post cards and so on. EFI maintains these tools save operators time and give them more control for flawless imposition and automated document finishing.
With the Fiery server, customers have seamless connectivity to Xerox EIP and FreeFlow® workflow applications. Utilising Fiery JDF technology, the EX Print Server provides a robust integration to EFI's portfolio of print MIS and workflow solutions, as well as to third-party offerings. These workflow integrations allow job information to flow through the system faster and more efficiently, reducing human error and operational costs. The EX Print Server also supports the Adobe PDF Print Engine, offering an end-to-end PDF workflow that enables users to improve the consistency and flexibility of printed output from design to print.
The EX Print Server supports all levels of engine resolution and has additional features to deliver high print quality, such as image smoothing, text/graphics enhancements, and black custom screening to give users more control over halftone output. The optional ImageViewer for black and white is a CWS plug-in that lets operators preview full-resolution print data so they can see exactly how the job will look before they print it. In addition, it provides controls to edit the black tone curve to adjust image quality to better match customer expectations.
Fiery technology supports all leading variable data printing (VDP) formats including PPML v2.2, PDF-VT 1.0, VI Compose, Fiery FreeForm™ and additional legacy languages. Pad printing is another new feature enabling the production of new applications such as notepads, prescription pads or entry forms to extend a print provider's offerings.
Also new with this Fiery server launch is built-in direct mobile printing from Apple® iOS mobile devices. Apple devices automatically discover the Fiery Driven™ printer on the same wireless network, inside the corporate firewall, enabling printing directly from iPad™, iPhone® and iPod touch® devices.
Availability
The EX Print Server can be ordered now from Xerox. EFI is a Xerox Business Innovation Partner. For more information, go to www.efi.com
Copyright © 2011, DPNLIVE – All Rights Reserved